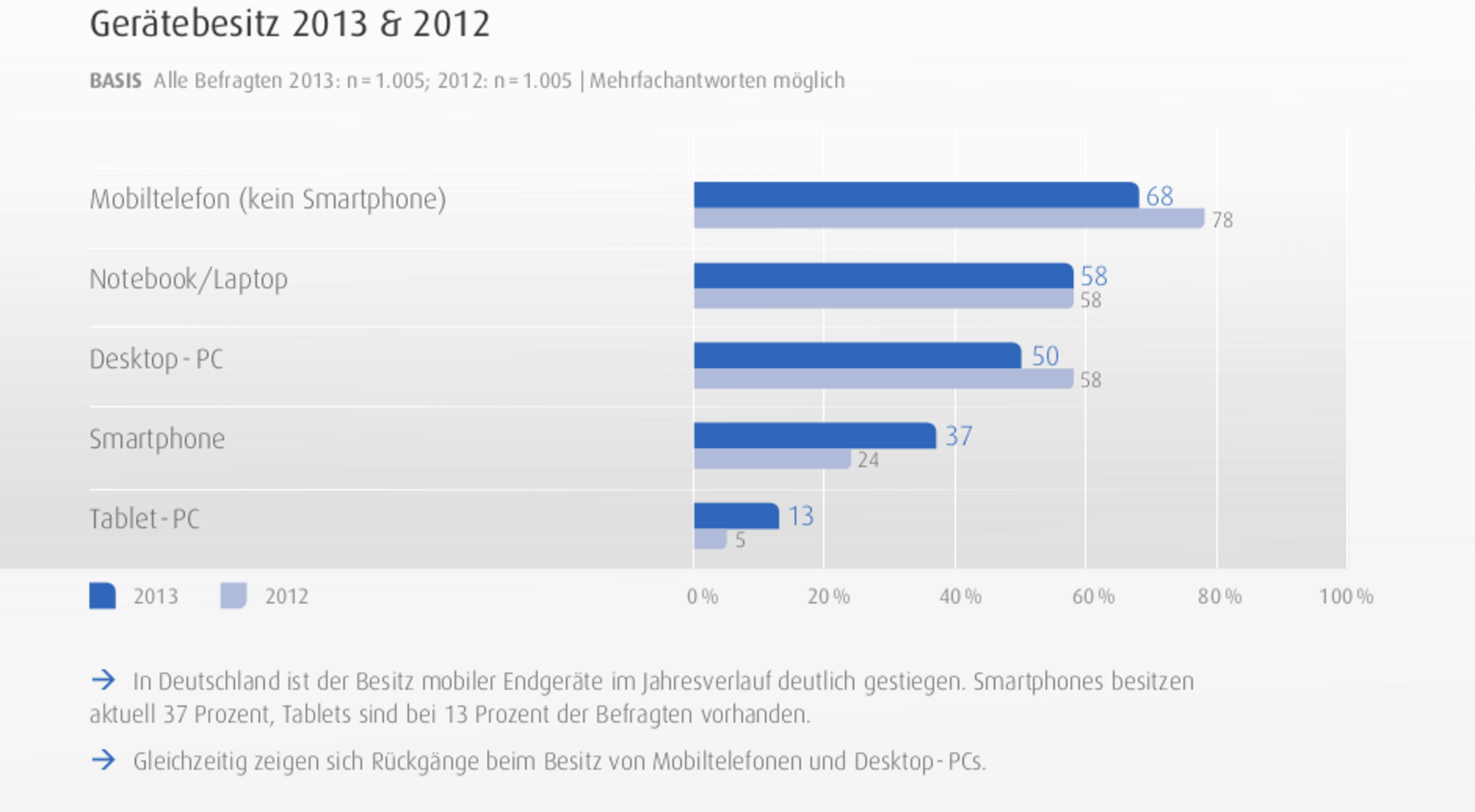 19
Mai
2014
Responsive Webdesign - Is the hype justified?
Responsive web design is a creative and technical approach to creating web pages so that they can respond to the different characteristics of the respective end devices (laptops, desktop PCs, tablets, smartphones, e-book readers and televisions, etc.). The necessity of responsive web design results from the fact that there are strong differences in resolution and size of the display between the different end devices and therefore the usability and the appearance are influenced by these two factors.
(Source: http://www.initiatived21.de/wp-content/uploads/2013/02/studie_mobilesinternet_d21_huawei_2013.pdf)
Also affected are the different input methods (mouse touch screen) as well as certain elements (page navigation, columns and texts). HTML5, CSS3 and JavaScript form the technical basis for this.
The goal of Responsive Webdesign is to customize the presentation so that the visitor always gets a clear and user-friendly website, regardless of the device. In addition to the size of the display device, the various input options and the Internet connection also play a role.
Responsive Web Design only builds a version of the website that adapts to the environment in which it is available. Responsive web design is implemented in HTML or CSS using so-called media queries. With the strong growth of the mobile web market in recent years, responsive web design has become a standard in web development and will continue to play an important role in the coming years as the market continues to grow in importance. Especially since the possibilities of responsive web design are still far from exhausted and even today there are still new technical possibilities to tackle previously unresolved problems in the area of layout and development.
Bottom line:
With the expected further growth of the mobile web market in the coming years, Responsive Webdesign is a trend that will certainly continue and therefore should not be neglected for website operators and web developers.
Back
previous article
next article